Beaded Purses through the Decades
Ivy King
An Overview of Beaded Purses
While women were carrying bags for centuries, they began using purses in the late eighteenth century in France after more form fitting dresses came into style, which caused their dresses to lose their pockets. This caused handbags to have mass popularity. Once purses and handbags came into fashion, so did beaded handbags and the hobby of crafting them by hand. Women made beaded handbags up through the 1930s, and at first the intricate designs were meant to show off to possible suitors.
There were a couple of way to create a beaded purse which included: sewing the beads onto mesh, knitting, or crocheting the bags. Most beaded bags were composed of tiny glass or metal bags, and then later they used plastic. The sheer number of beads used to create the bags are able to create a distinguishable pattern.
Late 1800s
In the late nineteenth century, beaded purses became hugely popular. This is due to the world becoming more mobile with the Industrial Revolution. Women needed a way to carry their possessions around with them. They also gained popularity due to the fact that handmade bags often showed off a woman's skill set to other women and potential husbands.
In the late 1800s glass beads were often used to decorate many accessories including beaded purses. This was seen frequently on reticules. A reticule is a purse with drawstrings or chatelaine handbags, which would hook onto a woman's sash or belt. These beads first became popular in Europe, especially France. Their beads came in a variety of shapes and sizes, and covered handbags of the period. So, many of the bags were imported from Europe.
Early 1900s
Beaded bags of the early twentieth century have similar styles of the late nineteenth century, but they seemed to have grown in popularity in the Edwardian period. Many patterns from the previous century extended into the next one, and beads and frames were used to update fashions. The Chatelaine and reticule continued to be popular.
Metal beaded bags pressed further into the American market, and were found in even more stores and mail order catalogs. They became so fashionable that American companies began producing steel beads themselves. The steel beads from the American companies rusted much faster than the French beads. The American beads were larger and duller than the French beads, but they were still used in chatelaine bags.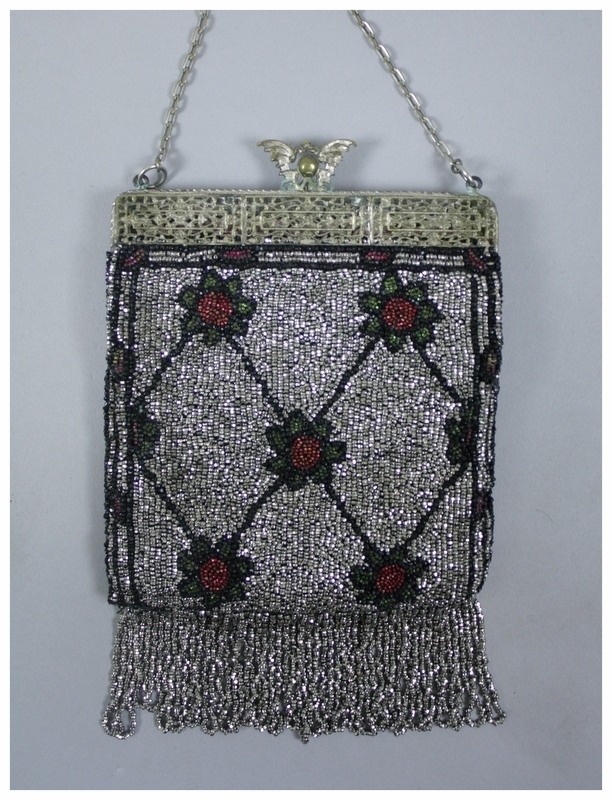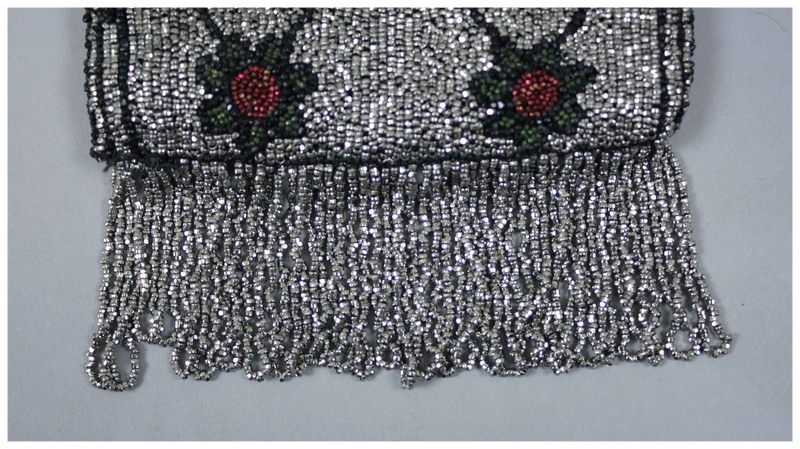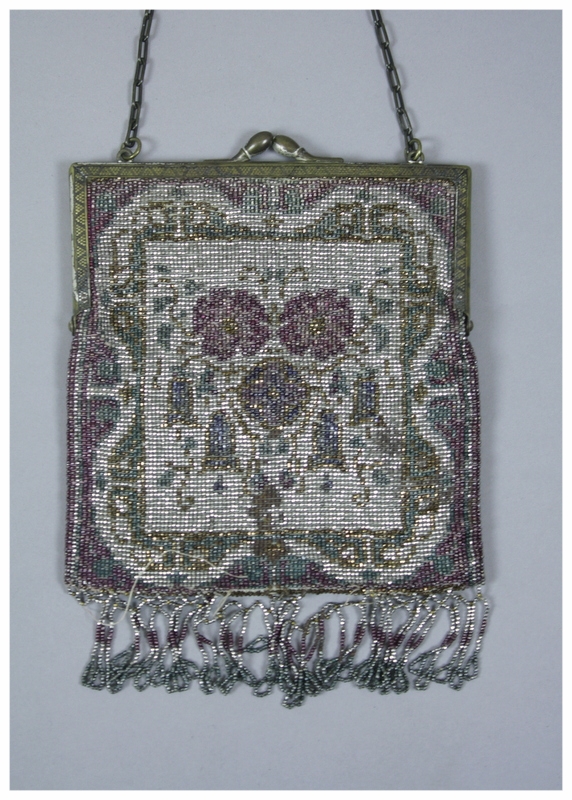 The Roaring Twenties
Beaded purses hit their height in popularity during the Roaring Twenties. During this time period, styles varied greatly. Some were newer designs including Art Deco, floral, geometric, or abstract while others used older reticule or Art Nouveau patterns. The beaded bags had a greater variety of colors and shapes. Many also had the signature beaded fringe that the Twenties is so well known for.
Purses in general were more popular than ever, and women often brought them with whenever leaving their home. Women also had more independence than in previous decades, so they needed to carry more around. They carried mirrors, make-up, money, handkerchiefs, and more. In fact, purses became a symbol of the freedom that came with being a modern woman.
Before World War II: The 1930s
Overall, purses became more practical in the Thirties due to the Great Depression. But, beaded handbags were still popular with women particularly for evening wear. Most purses grew larger in size as women needed to carry more. This can be seen in the blue beaded purse below. In general evening bags still tended to be smaller in size.
Art Deco patterns continued to be popular in the 1930s. Many purses came in new forms or structures to update styles from the Twenties, and this included geometric shaped purses. Purses demonstrated a woman's identity, and it was easier for them to purchase or make a new purse rather than buying new dresses.
After World War II: The 1950s
Purses in the 1950s varied greatly in size and material, and women of the time knew that a purse would complete their look. In this time period, women had purses for nearly every occasion. Purses rose in popularity due to the recovering economy and celebrity influence.
Similar to the 1930s beaded handbags were popular evening bags especially small beaded clutches. Rectangular clutches were extremely popular in the '50s. Particularly stylish evening bags shined with rhinestones, beads, mesh, or sequins.
c. 1950
Gunmetal colored beaded purse with silver sateen lining. Front of the purse has five beaded flowers with darker black beads as flower petals and the same gunmetal colored beads in the center of the flower. The back of the purse is plain. Zipper closure and tag on the interior says "Bag by Debbie Hand-made in Japan".
c. 1950
Beaded purse with zipper closure. Exterior is made up of pearl-like beads with clear beads making a floral design on one-side in the center.
Resources
https://vintagedancer.com/1930s/1930s-handbags-purses-history/
http://historiccamdencounty.com/ccnews97.shtml
http://www.antiquepeek.com/facts_beaded_purses.htm
http://www.randomhistory.com/2008/10/01_handbag.html